1874 World Base Ball Tour (Continued)

he following is a short synopsis of the trip. All games, baseball and cricket were played on cricket grounds and the players helped with the layout of the field at each location.
July 30 (Thursday) at Liverpool Athletic 14, Boston 11 - 10 innings
The game was played that the Liverpool Cricket Grounds at Edge Hill, which is no longer in use. Only about 500 spectators attended the match. The NY Clipper did report the following on the game, "In the tenth inning Anson made a brilliant catch which cut off all chance of a victory for the "Reds," for, had he missed it, they would have scored three more runs sure."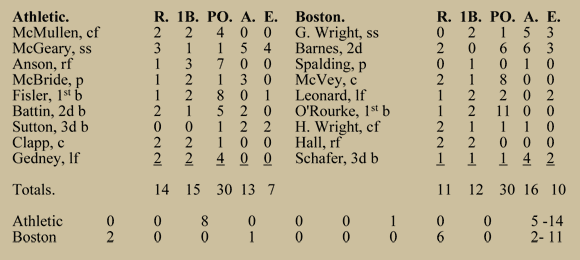 First base by errors - Athletic, 9; Boston, 7. Runs Earned - Athletic, 1; Boston, 3. Home Runs - Boston, 3; Athletic, 1. Double-play - Boston, 1; Athletic, 1. Umpire, J. Sensenderfer of the Athletic Club. Time, 2h. 20m.
---
July 31 (Friday) at Liverpool Boston 23, Athletic 18
Played on the same grounds as the previous day. This time only about 200 spectators appeared. Thomas Beals of Boston acted as the umpire.

First base by errors - Boston 10 times; Athletic 5 times. Runs Earned - Boston, 14; Athletic, 12. Passed balls - McVey, 1; Clapp, 4. Home Runs - McVey, 2; Hall, 1; Schafer, 1; Sutton, 1. Umpire, T.S. Beals, Boston Club.
---
Aug. 1 (Saturday) at Manchester - Athletic 13, Boston 12
The players took a one hour train ride from Liverpool. The baseball game was played at Old Trafford Grounds and is currently still in use by Lancashire County Cricket Club and the England side to this day. Crowds more accustom to the Americans turnout and approximately 2,000 watched the match. Wes Fisler and George Hall each hit home runs.

Runs Earned - Athletic, 5. Passed Balls - Clapp, 3. Home Runs - Fisler, 1; Hall, 1. First base by errors - Athletic, 6 times; Boston, 8 times. Umpire, Mr. Murnan, Athletic Club.
---
Boxscores from The NY Clipper provided by Tom Shieber of the Baseball Hall of Fame.
1874 World Base Ball Tour: The Games Continued