1874 World Base Ball Tour: The Games (Continued)
Aug. 10 (Monday) at Crystal Palace - Boston 17, Athletic 8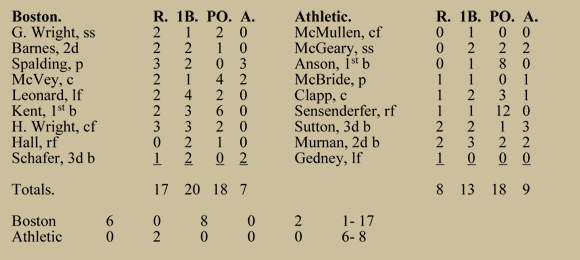 Runs Earned - Boston, 11; Athletic, 3. First base by errors - Boston, 3 times; Athletic, 3 times. Total Bases - Boston, 32; Athletic, 17. Umpire, Mr. W.D. Fisler of the Athletic Club. Time, 1h. 50m.
---
Aug. 11 (Tuesday) at Crystal Palace - Athletic 19, Boston 8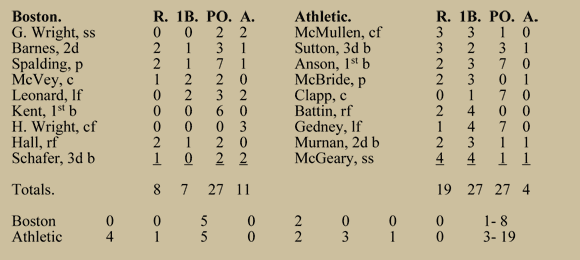 Runs Earned - Boston, 2; Athletic, 8. First base by errors - Boston, 5 times; Athletic, 5 times. Total Bases - Boston, 12; Athletic, 46. Umpire, Mr. J. O'Rourke of the Boston Club. Time, 2h. 5m.
---
Aug. 13 (Thursday) at Kennington - Boston 16, Athletic 6
The baseball match in Kennington, which is part of London, was played at the Kennington Oval Ground.
Cricket Match* - August 13 and 14; Americans 211, Surrey C.S. 29. The cricket match was started on the 13th and resumed on the 14th.
*Second innings unfinished, only four wickets down.
---
Aug. 14 (Friday) at Kennington - Spalding's Nine 14, McMullin's Nine 11
---
Aug. 15 (Saturday) at Sheffield - Boston 19, Athletic 8
The match at was played at Bramall Lane which is now a soccer stadium, home to Sheffield United of the English Premier League of English soccer, but at the time was a cricket ground.
---
Aug. 17 (Monday) at Sheffield - Boston 18, Athletic 17
Cricket Match - August 15 and 17: Americans 130, Sheffield 88
---
Aug. 20 (Thursday) at Manchester - Athletic 7, Boston 2
The baseball and cricket matches were played at the same location as the August first games.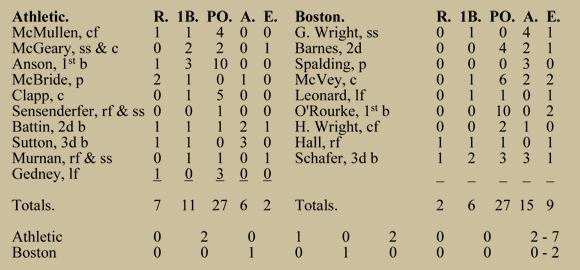 Runs Earned - Boston, 2. First base by errors - Athletic, ?; Boston, 0. Umpire, T.G. Beals of the Boston Club. Time of Game, 1h. 40m.
Cricket Match - August 20 and 21: Americans 221, Manchester 95.
---
The following italicized excerpts were taken from Andy Leonard's diary and provided by Charles J. McCarty, Andy's grandson.
Thursday, August 20, 1874, "Played in Manchester. Americans first inning 121. English first inning 42. Americans 2nd inning 100 English second inning 52. Athletic Boston. Queens Hotel."
"Friday 21, Played the second innings of cricket in Manchester. Left the city (ed. question: Manchester or London??) for Dublin at 10:45 A.M. arrived in Dublin at 10:30 P.M. A pleasant trip across the Channel. McVey got left in Manchester in time to see the train go out."
"Saturday, August 22. Left the city at 10:45 A.M. arrived in Dublin at 10:30 P.M. A pleasant..."
Clearly, Sunday 23 is a sight-seeing day in Dublin..."went around the city in a jaunting car. Visited Phoenix Park, Nelson's Monument on Sackville street, Trinity College, St. Patrick's Cathedral, Royal Barricks Exhibition Buildings, xc xc."
Aug. 24 (Monday) at Dublin - Boston 12, Athletic 7
"Monday, 24. Beat the Athletics. Shelbourne Hotel, Dublin."
Aug. 25 (Tuesday) at Dublin - Athletic 13, Boston 4
Cricket Match - August 24 and 25; Americans 165, All Ireland 65
As stated by Chas McCarthy, "The notations for Tuesday the 25 are of great interest to us descendents. Oral family history has him returning triumphantly to his hometown, Cavan, as both an American "champion" ballist and as a native-born Irishman, survivor of the Great Hunger (or Famine) who had battered the English cricket champions silly at their own game. His notes are not particularly helpful in resolving the ambiguities":
"Tuesday 25. Stopped at the Farnham Arms Hotel, Cavan. Made 26 runs in cricket against the Irish Eleven. Beaten By the Athletics."
Only about 1,500 spectators combined to attend the two games in Dublin.
In Spalding's Official Base Ball Guide for 1878, the 1874 tour was said to be "quite successful in introducing our national game in England" and "considerable interest was manifested in the game." The 1879 Spalding Guide revealed more of the truth when it printed, "But the game did not prove to be the strong rival of Cricket, which had been expected, and while the exhibitions of fielding were greatly admired, but little was accomplished..." The 1890 Spalding Guide simply stated, "But the venture of 1874 proved a financial failure and did little or nothing toward establishing our American game in England."
---
Boxscores from The NY Clipper provided by Tom Shieber of the Baseball Hall of Fame.
More Teams & Tours
1867 Washington Nationals Tour

1867–1870 Cincinnati Club; aka "Red Stockings" Tour.