Paul Hines
1852–1935
By Eric Miklich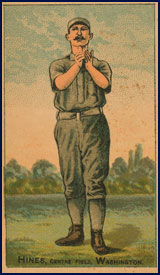 AUL HINES played in 1,659 games in three leagues, from 1872 through 1891, had 2,135 hits, hit over .300 eleven times and posted a career batting average of .302. Despite his successful career, Paul Hines would be all but forgotten today if not for the fact that he was involved in thirteen major league "firsts."
Hines was born in 1852 in Washington, DC and first played infield for the Washington Nationals of the National Association in 1872. His first season was short lived as the 0-11 Nationals disbanded after a 9-1 loss to the Baltimore Canaries on June 26.
In 1873 Hines played for the reorganized Washington team (who changed their name to the Blue Legs), and hit over .300 for the first time. From 1874 through 1877 he played centerfield, his primary position for the rest of his career, for the Chicago White Stockings. During this time Hines would attain his first "first." In 1876 the White Stockings would become the first National League Champions.
Hines moved to Rhode Island and played for the Providence Grays from 1878 through 1885. Here he would collect the twelve other "firsts." His initial year with the Grays, Hines would become the first to record an unassisted triple play. In the third game of the season, after Providence had taken a 3-0 lead in the top of the eighth, the Boston Red Caps got one back in the bottom of the inning and had Ezra Sutton on second and Jack Manning on third with none out. Second baseman Jack Burdock hit a short fly ball over shortstop Tom Carey. From his centerfield position Hines made a running catch and continued toward third and stepped on the bag to put out both Manning and Sutton, who had proceeded home. According to the rules of 1878, if both runners had passed third base when Hines stepped on the bag, they were both immediately out. Hines threw to second baseman Charlie Sweasy who stepped on second to retire Sutton. It has been debated whether this was necessary. Some reports say that both men had passed third and were on their way home and some say that Sutton was on his way back to second. Either way Paul Hines has been given credit for accomplishing the feat.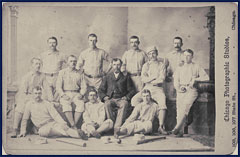 His third and fourth "firsts" came in 1878, although he would not be given credit for one until 1968, 33 years after his death. At the conclusion of the season Hines along with LF Tom York and RF Dick Higham formed the first all .300-hitting outfield in NL history. As for the other, the NL crowned Milwaukee Grays LF Abner Dalrymple the batting champ for hitting .356. Dalrymple was considered to be the first rookie to win a batting title. But in 1878, hits made in tie games were not counted. So after recalculating the final averages Dalrymple's .354 came up short to Hines' .358. Hines also led the league in RBI with 50, and home runs with 4; so in fact, Hines was the first major leaguer to win the Triple Crown.
More investigation helped Hines gain his fifth "first" in 1879. Spalding's Official Base Ball Guide awarded the 1879 batting title to Chicago White Stockings first baseman, Cap Anson with a .407 average. Spalding claimed Anson had compiled 90 hits in 221 at bats. Years later, a subsequent investigation showed that in fact, Anson had only 72 hits in 227 at bats for a .317 average. Hines hit .357 in 1879, the highest average that year and the first major leaguer to lead the National League in batting average for two consecutive years. Also in 1879, the National League introduced, for one season only, the "Reached First Base" statistic. It included times reached via hits, walks and errors, but not hit by pitch because batter did not receive a base after being hit in 1879. Paul Hines, in 85 games, reached first base 193 times to lead the league-his sixth "first."
In 1882, Hines became the first player to wear sunglasses during a major league game, and on September 25 played in the first true doubleheader in National League history. The Grays split the two games with the Worcester Ruby Legs in the first instance of two games for the price of one.
His final five "firsts" came in 1884 and specifically the 1884 World Series. He was the first National Leaguer to bat in World Series history. During that at bat he became the first batter to be hit by a pitch (the game was played under American Association rules which allowed a batter to receive his base after being hit by a pitched ball). In the third inning he got the first hit in National League World Series history, a single. He scored the first run in World Series play that same inning after a passed ball and two wild pitches by New York Metropolitans' starter Tim Keefe. Hines' Providence Grays beat New York three games to none to win the first World Series.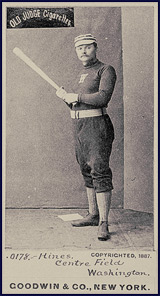 Hines would return to Washington and play for the Nationals of the National League for the 1886 and 1887 seasons and hit over .300 both years. He played for the Indianapolis Hoosiers in 1887 and 1888, hitting .308. In 1890, he patrolled centerfield for the Pittsburgh Infants for 31 games, and then, in the same season, moved to the Boston Beaneaters for 69 games. The 39-year-old Hines finished his career back home with the Washington Nationals of the American Association in 1891.
In 1920, Hines was arrested in Washington, where he worked for the Department of Agriculture Post Office, for pick pocketing. He would die 15 years later still not knowing he was the first major league Triple Crown winner and a two-time batting champ.
Sources:
The Official Rules of Baseball; By David Nemec, c. 1999
Total Baseball; Sixth Edition, c. 1999
The Great Encyclopedia of 19th Century Major League Baseball; By David Nemec, c. 1997
Early Innings; Compiled and Edited by Dean A. Sullivan, c. 1995
Before the Curse, The Glory Days of New England Baseball 1858–1918; By Troy Soos, c. 1997