Lawson's Patent Baseball Card Game
A Perfect Game of Baseball With Cards
Lawson's Patent Game, Base Ball With Cards, originally patented on September 16, 1884, is the earliest known base ball card game ever produced.
19c Base Ball is pleased to offer this painstakingly researched, 120-year commemorative set. From the colors used, to the pictures on each card, to the rules booklet and even the box the cards come in, it is almost indistinguishable from the original. The old game was sold as both a blue-backed set and a maroon-backed set. An example of the latter recently went at auction for $914.29. This blue-backed set is a fantastic collectible for any historian or 19th century base ball player.
Each set contains 36 beautifully crafted playing cards, 2 "cheat sheet" cards, a special commemorative edition card, and the 20-page instruction booklet. These sets will make truly unique gifts for all the sports fans in your life.
Order now to receive
FREE SHIPPING*

within the continental U.S.!

Team, historical society, collector and dealer inquiries welcomed.

*Limited-time offer. May be withdrawn at any time without prior notice. Express shipping provided upon request at additional charge.

---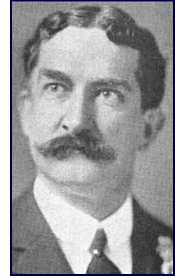 Thomas William Lawson
(1857-1925)
The fascinating story of T. W. Lawson, a true Renaissance man, begins as a rags-to-riches tale. He was born to Canadian immigrants in Massachusetts where his father, a carpenter, died just 8 years afterward. Lawson left school to find work, taking on odd jobs throughout his young life. At age 22, he married his childhood sweetheart and shortly thereafter became a successful stockbroker. Thomas made his first million on the stock market by the time he was 30 and, at the height of his career, was worth at least 50 million. By 1900, Lawson had built a beautiful $6,000,000 estate near Boston named "Dreamwold" and was later the President of Bay State Gas Co.
As an author he wrote a series of articles under the title of "Frenzied Finance," which ran for 20 months from 1904-1905 in Everybody's Magazine. In the articles he attacked large insurance agencies and gave examples of how companies he had worked with, like Standard Oil, bribed judges and politicians. The series was one of the most sensational successes in magazine history. With "Frenzied Finance," Lawson hoped President Teddy Roosevelt would take up his case "and shake the largest trusts and corporations until their teeth chattered and their backbones rattled." Unfortunately, the articles did not have the type of long-term impact Lawson had intended and his stock market "remedies" went largely unheeded. His efforts did, however, bring about an insurance investigation. After "Frenzied Finance" was published as a book, Lawson followed it up with a novel entitled Friday, the Thirteenth, which also attacked the stock market but was less popular. Other books written by Lawson include History of the Republican Party, The Remedy, The High Cost of Living and The Leak.
Not only was Lawson a multi-million dollar businessman and accomplished writer, but he was a yachting aficionado too. Lawson financed the building of a yacht, the Independence, to try and compete for the 1901 America's Cup. He also co-published The Lawson History of The America's Cup and even had a boat named after him, the Thomas W. Lawson, which was the largest schooner ever made and the only one with seven masts. The boat eventually sunk in 1907 during a storm and its namesake was soon to follow.
The uproar caused by Frenzied Finance proved too costly for Lawson as he lost clients and money at the hands of his corporate antagonists. His fortunes declined steadily during the final 15 years of his life and he died a relatively poor man. From rags to riches and then back to rags, Thomas William Lawson was a tragic hero of epic proportions, sadly lost to time... that is, until today.
Lawson and Base Ball
In addition to Thomas W. Lawson's other varied interests, he was an avid base ball fan who made some very unique contributions to the sport. In 1888, Lawson published The Krank: His Language and What it Means, a comical glossary of base ball expressions. The book sold for 25¢, had a horsehide cover and measured 2½ inches by 2 inches. Only two publicly accessible copies exist today and they can be found at the Library of Congress and the National Baseball Hall of Fame and Museum.
As a young man, one of Thomas' jobs was as a "candy butcher" on trains in the Boston area selling candy, tobacco, and newspapers in the aisles. He saved up his money and later invented a card game with a base ball theme. Lawson received a patent on September 16, 1884 and sold packs for 50¢ each at newsstands and stationery stores. Six different versions were created: 3 common blue-backed sets, 1 maroon-backed set with gold edges and 2 rare games made for companies in Boston.
1885 Base Ball Card Tournament
Lawson's game was a tremendous success and in 1885 Thomas arranged a promotional tournament of the eight National League clubs, played by real members of the teams over the course of their base ball seasons, with prizes that Lawson posted himself including "$1,600 in handsome trophies." Winners of early round games received cash prizes and an "elegant" silver ball, while the champions were to be awarded $500 and a silver bat. This card tournament received nearly as much newspaper coverage as the players' actual base ball games did. All of the results of the tournament are known, except for the final match between Philadelphia and Chicago. The Philadelphia players were reserve catcher Tony Cusick and right fielder Jack Manning and the Chicago players were second baseman Fred Pfeffer, an excellent faro player, and the popular third baseman Ned Williamson, a master at whist.
The preceding information on Thomas William Lawson and his base ball card game was written by Kevin Faria (19th century base ball player and historian) and presented on October 29, 2006 as part of a two-day 19th Century Base Ball Conference in Cooperstown, New York. This article has been edited by Eric Miklich of 19c Base Ball.
---